Uniform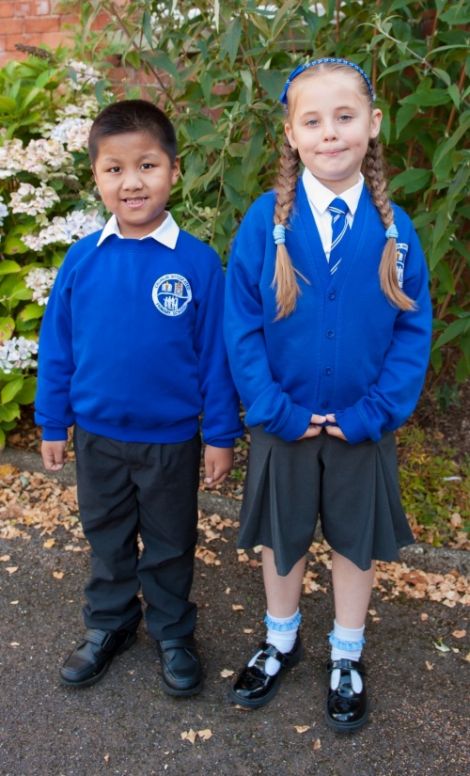 Children are expected to wear school uniform.
We have designed our uniform so that children coming from other schools may incur minimal expense.
School Sweatshirt
Grey or black trousers (boys)
Grey skirt, trousers or pinafore (girls)
White polo shirt
or
White shirt and school tie
Black shoes
During the summer months blue checked dresses are also acceptable for girls. School sweatshirts and ties may only be purchased from the school office. A waterproof, reversible coat in school colours and embroidered with the school crest can also be ordered from the school office. Families qualifying for free school meals are also entitled to claim a school uniform grant.
P.E. Kit: Each child must have a P.E. kit of plimsolls, blue shorts and white tee-shirt. These items can be ordered through the school office. Trainers can be worn for outside games. Please note: All articles of clothing should be clearly marked with the pupil's name as many articles are lost each year.
Swimming:Primary 5, 6 amd 7 classes are timetabled for swimming lessons at the Antrim Forum for a number of weeks under tuition of a qualified swimming instructor: Girls are requested to wear swimsuits, not bikinis.
Jewellery: Due to concerns arising from potential accidents, jewellery should not be worn at school. Children with pierced ears should only wear stud earrings, drop and hoop earrings should not be worn. All jewellery must be removed for P.E. This is sensible Health and Safety advice and we ask for your full co-operation in this matter.
Crumlin Integrated Primary School, 27 Mill Road, Crumlin, Co. Antrim, BT29 4XL Telephone:- (028) 94 422 357