Uniform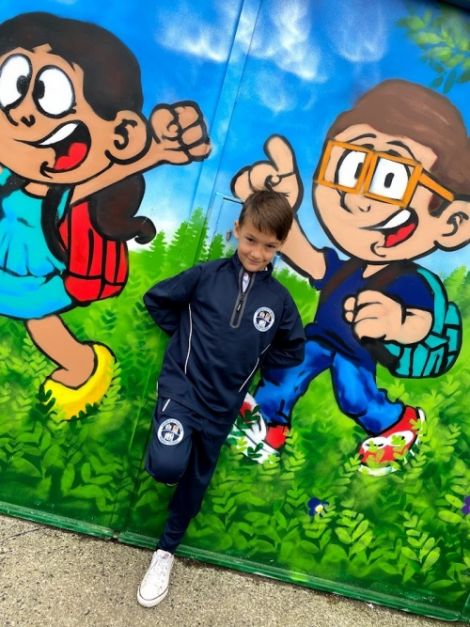 School Uniform
Children are expected to wear school uniform.
Wearing a school uniform is an important element of our school identity and we want our children to take pride in their uniforms and be proud to be a pupil at Crumlin Integrated PS.
Wearing a uniform also helps to prepare the pupils for the requirements of secondary/grammar school education as well as for the world of work that lies in their future.
Our daily uniform consists of a branded sweatshirt along with a white polo shirt, grey trousers or skirt. Pupils should wear black school shoes with this uniform- not trainers.
We have made a branded tracksuit available as an option for pupils to wear on PE days. Your class teacher will inform you which days this can be worn. The track suit should be worn with a white polo shirt and trainers. This removes the need for pupils to change for PE activities during school hours.
All branded items are available to purchase here.
Please note that branded polo shirts are optional. Plain white polo shirts are acceptable as uniform.
The school uniform for pupils at our school is shown on the table below.
BOYS

GIRLS

· sweatshirt (with school logo)

· White polo shirt

· Grey trousers

· Black/grey socks

· Black school shoes (NOT TRAINERS)

· sweatshirt / cardigan (with school logo)

· White polo shirt

· Grey skirt / trousers

· White socks or grey tights

· Black school shoes (NOT TRAINERS)

· Summer dresses can be worn in the third term.

· Crumlin IPS Branded Tracksuit may be worn on PE days. (optional)

Pupils may choose to change into appropriate footwear, shorts/tracksuit bottoms and white polo shirt.
Jewelry: Due to concerns arising from potential accidents, jewelry should not be worn at school. Children with pierced ears should only wear stud earrings, drop and hoop earrings must not be worn! All jewelry must be removed for P.E. This is sensible Health and Safety advice and we ask for your full co-operation in this matter.
Crumlin Integrated Primary School, 27 Mill Road, Crumlin, Co. Antrim, BT29 4XL Telephone:- (028) 94 422 357