Welcome to Mrs Lambe's Primary 5 Class!
We have made a fantastic start to the school year and we have settled well into the new routine of Primary 5. Each and every one of us are working extremely hard in all areas of school life, making our teacher and parents extremely proud! This new term has seen us grow into more independent learners whilst accepting new challenges with positivity and determination.
We've a busy and exciting year ahead so keep an eye on our class page to keep updated with our learning journey.
Electricity
Primary 5 have been learning all about Electricity in World Around Us this term. They have really enjoyed building circuits, testing a range of different materials to see if they were conductors or insulators of electricity, recording and editing an iMovie about electricity and carrying out an investigation into static electricity using balloons.
Maths Week 2020
The theme of Maths Week this year is Problem Solving. Primary 5 have really enjoyed completing a number of problem solving tasks in class this week. At the end of the week, the children enjoyed having their parents and grandparents visit them in class to take part in a number of problem solving activities, including a Primary 5 Speed Test for their parents!
Sticky Ice Investigation
Primary 5 were set a challenge to try and get an ice cube out of a bowl of water using only a piece of string. They had lots of fun working together in groups trying to figure out how to lift the ice cube out of the water. Do you think you know how they did it?
Polar Regions
Primary 5 have been learning all about the Polar Regions in World Around Us. They designed polar bear art work using watercolour paint and they manipulated tissue paper to create a snowy landscape. The children also made paper mache igloos.
Harvest Assembly
In our art lessons, we designed leaf hedgehogs for the Primary 1 Harvest Assembly and our artwork was displayed in the School Assembly Hall. We gathered different size leaves around our school and used these to print on our hedgehogs using autumn colours.
Numeracy
In numeracy, we have been learning all about 3D shapes. We went on a 3D shape hunt around our school. We also learnt how to construct 3D shapes using Clixi - it was really fun! We have also learnt how to balance scales and convert between grams and kilograms in our numeracy lessons.
Colin Shields Visit
Primary 5 had a special visitor, former Belfast Giants and Team GB Ice Hockey Player, Colin Shields. Colin put the children through their paces and showed them various hockey drills. The children had a fantastic time with him!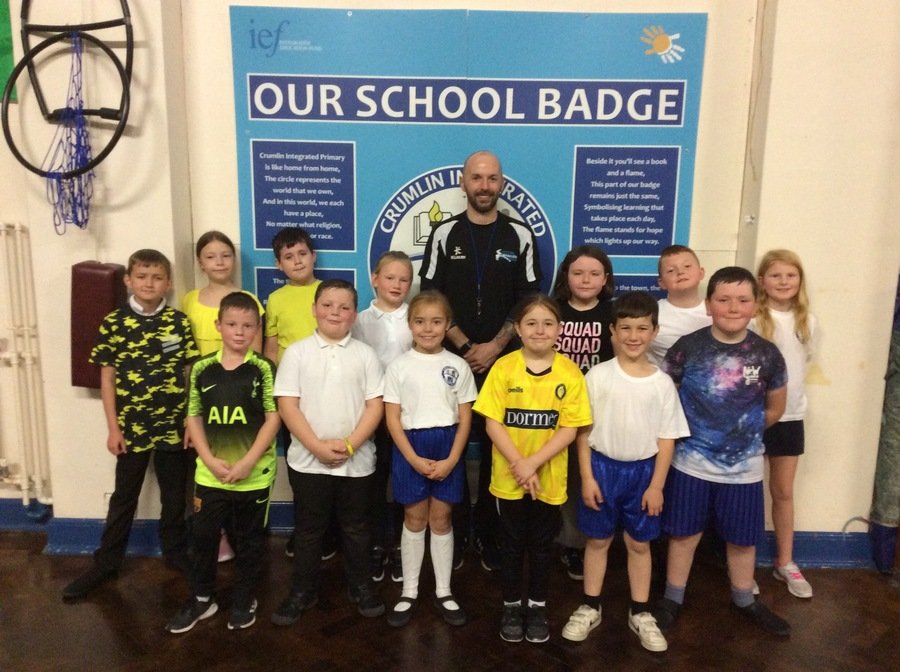 2D Shape Hunt
Primary 5 have been learning all about 2D shapes in numeracy. We went on a 2D Shape Hunt around our school to see how many different 2D shapes we could find. We found out that our school has a lot of rectangles!
Curriculum Information
Topics
Mighty Me

Polar Regions

Electricity

Ancient Egyptians

World War Two
Reading
It is important to read with your child each night, this will increase their vocabulary, fluency and comprehension skills. Ask questions along the way. Please ensure your child reads a variety of material.
Mental Maths
It is important that you practise the mental maths focus for the week with your child each night, this will aid them in all areas of their numeracy learning.
PE
PE is on a Wednesday. Please ensure each item of your child's PE kit is labelled before bringing it into school.
Homework
Homework will follow the same format each week. It includes reading, spelling and a mental maths focus.
Monday - Numeracy
Tuesday - Literacy
Wednesday - Numeracy
Thursday - Reciprocal Reading Task
Always TALK to your child about what they are doing in school - this is the best form of home learning you can do. Talk, listen and join in where you can.
Please click on the link below for more information regarding the Primary 5 curriculum.